Train Sim World 2
ДОБАВИЛ admin, 17.09.22
ПРОСМОТРОВ:242
Дата выхода: 2020
Версия игры: 1.0.177 + DLCs
Жанр: PC / 3D / 1st Person / 3rd Person / Simulator
Разработчик:Dovetail Games
Тип издания: Repack
Платформа: PC
Язык интерф.: Русский, английский
Язык озвучки: Английский
Таблетка: Вшито (Nemirtingas Epic Emulator)
Размер: 50.23 GB


(голосов: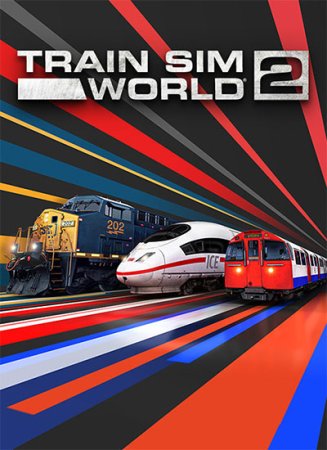 Описание

Сис.Требования

Трейлер

Скриншоты

Скачать торрент

Дополнения (DLC)
Эволюция в мире железнодорожных симуляторов! Управляйте легендарными высокоскоростными и пригородными поездами, перевозите тяжеловесные грузы или проявите фантазию с инструментами для редактирования, представленными в этом обновленном продолжении серии. Займите место машиниста в новом Train Sim World 2.

Repack от FitGirl

ОС: Windows 7SP1/8/8.1/10 (x64)
Процессор: Intel Core i5-4690 @ 3.5 GHz или AMD Ryzen 5 1500X @ 3.7 GHz
Память: 8 Гб
Видео: NVIDIA GeForce GTX 750 Ti или AMD Radeon R9 270 с 2 Гб VRAM или лучше
DirectX: 10
Место на диске: 146.7 Гб (до 179.3 Гб на время установки репака)

[media=https://youtu.be/lPc8ZMMSvDw]

Маршруты/Расширения




New Journeys Expansion [TSW2ExpansionPack] (BKR) (KAH) (SPG)
Arosalinie: Chur - Arosa [ArosaLine] (ARL)

Bahnstrecke Riesa: Dresden - Riesa [DresdenRiesa] (DRA)
Boston Sprinter: Boston - Providence [BostonProvidence] (NEC BP)

Canadian National Oakville Subdivision: Hamilton - Oakville [TSW2TorontoIndustrial] (OSD)
Cane Creek: Thompson - Potash [CaneCreekRailroad] (CC)

Clinchfield Railroad: Elkhorn - Dante [ClinchfieldRailroad] (CRR)
East Coastway: Brighton - Eastbourne & Seaford [EastCoastway] (ECW)

Great Western Express: London Paddington - Reading [TSW2PaddingtonReading] (GWE)
Harlem Line: Grand Central Terminal - North White Plains [HarlemLine] (HAR)

Hauptstrecke Hamburg - Lubeck [HamburgLubeck] (HBK)
Hauptstrecke Munchen - Augsburg [MunichAugsburg] (MAG)

Hauptstrecke Rhein-Ruhr: Duisburg - Bochum [NorthRhineMainLine] (HRR)
Horseshoe Curve: Altoona - Johnstown & South Fork [HorseshoeCurve] (HSC)

Isle Of Wight: Ryde - Shanklin [IsleOfWight] (IOW)
LGV Mediterranee: Marseille - Avignon [MarseilleAvignon] (LGV)

London Commuter: London Victoria – Brighton [LondonBrighton] (LBN)
London Underground Bakerloo Line (BKR)

Long Island Rail Road: New York - Hicksville [LongIslandRailRoad] (LIRR)
Main-Spessart Bahn: Aschaffenburg - Gemunden [MainSpessartBahn] (MSB)

Northern Trans-Pennine: Manchester - Leeds [LeedsManchester] (NTP)
Peninsula Corridor: San Francisco - San Jose [SanFranSanJose] (SFJ)

Rapid Transit [LeipzigS2SBahn] (RT)
Rhein-Ruhr Osten: Wuppertal - Hagen [Wuppertal] (RRO)

Ruhr-Sieg Nord: Hagen - Finnentrop [RuhrSiegNord] (RSN)
S-Bahn Zentralschweiz: Luzern - Sursee [LuzernSursee] (LZN)

Sand Patch Grade (SPG)
Schnellfahrstrecke Koln – Aachen (KAH)

Scottish City Commuter: Glasgow - Newton & Neilston [GlasgowCathcart] (CCL)
Sherman Hill: Cheyenne - Laramie [ShermanHill] (SMH)

Southeastern High Speed: London St Pancras - Faversham [LondonFaversham] (SEH)
Spirit of Steam: Liverpool Lime Street - Crewe [SpiritOfSteam] (LPC)

Tees Valley Line: Darlington – Saltburn-by-the-Sea [DarlingtonSaltburn] (TVL)
Tharandter Rampe: Dresden - Chemnitz [DresdenChemnitz] (DCZ)

West Cornwall Local: Penzance - St Austell & St Ives [PenzanceTruro] (WCL)
West Somerset Railway: Minehead - Norton Fitzwarren [TSW2WestSomersetRailway] (WSR)


Локомотивы



BR Class 20 'Chopper' [DSNClass20] (TVL)
BR Class 31 [DSNClass31] (TVL)

BR Class 33 [TSW2WSRClass33] (WSR)
BR Class 52 'Western' [TSW2WSRClass52] (WSR)

BR Heavy Freight Pack [BRHeavyFreightPack] (NTP)
Caltrain MP15DC Diesel Switcher [SFJMP15DC] (SFJ)

Caltrain MP36PH-3C 'Baby Bullet' [SFJMP36PH] (SFJ)
CSX C40-8W [SPGC40-8W] (SPG)

DB BR 101 [NRMBR101] (HRR)
DB BR 155 [RSNBR155] (RSN)

DB BR 182 [RTBR182] (RT)
DB BR 187 [KAHBR187] (KAH)

DB BR 204 [MSBBR204] (MSB)
DB BR 363 [RSNBR363] (RSN)

DB G6 Diesel Shunter [TSGVosslohG6] (RRO)
Diesel Legends of the Great Western [GreatWesternBlue] (GWE)

LIRR M3 EMU [LIRRM3] (LIRR)
London Underground 1938 Stock EMU [BKRLUL38Stock] (BKR)

RhB Anniversary Collection [RhBAnniversaryCollection] (ARL)
Southeastern BR Class 465 EMU [SEHClass465-9] (SEH)
Southern BR Class 313 EMU [ECWClass313] (ECW)
Посетители, находящиеся в группе Гости, не могут оставлять комментарии к данной публикации.